Automate Datev financial accounting
Make your financial accounting process simpler and more consistent: For you as a tax advisor and for your clients
The 5F FiBu module enables uncomplicated migration of data to DATEV Unternehmen online (Duo)®. This connection is a further step towards a fully comprehensive collaboration solution in which tax consultancys have all digital work modules available under one roof.
With the

5F FiBu module,

which we have realised together

with

bookmanSolutions®,

we make it easier for our tax consultants to completely digitalise their financial accounting. In addition, 5F FiBu is easily adaptable to the respective client requirements, for example, in addition to the pure document transfer, the commercial release can also be carried out via bookmanCockpit®.

Efficiency for you and your clients
Through the cooperation of
5FSoftware and bookmanSolutions®
we have developed the perfect symbiosis for your FiBu service and created full integration with DATEV.
This allows the effort of financial accounting to be reduced to a minimum. For example, there is no need to type in invoice data and your clients can simply "throw all the receipts over the fence" as required or enter all the technically necessary information for a proper accounting record.
5F FiBu ensures efficient processes within your tax consultancy
The cooperation between 5FSoftware and bookmanSolutions® focuses on increasing efficiency and reducing costs in the financial accounting processes within your tax consultancy. Our partner bookmanSolutions® is the start-up unit of the traditional company Diehm Treuhand
Steuerberatungsgesellschaft mbH in Heilbronn, which also has a big name as an auditing company. In our product development, we benefit from the more than 70 years of experience of this family-owned company with a wide range of industries. This interaction between 5F and bookmanSolutions® now makes it easy to handle mandates of all sizes.
Positive user experience
No matter how big or small your client is, we have the perfect solution for you.
Example 1:
A client wants to have as little to do with transferring receipts as possible and only work in 5F. Here, our popular Collecto with automatic synchronisation to DUo can be created. Of course, the client can also provide receipts by mail, depending on his preference: via app or folder synchronization.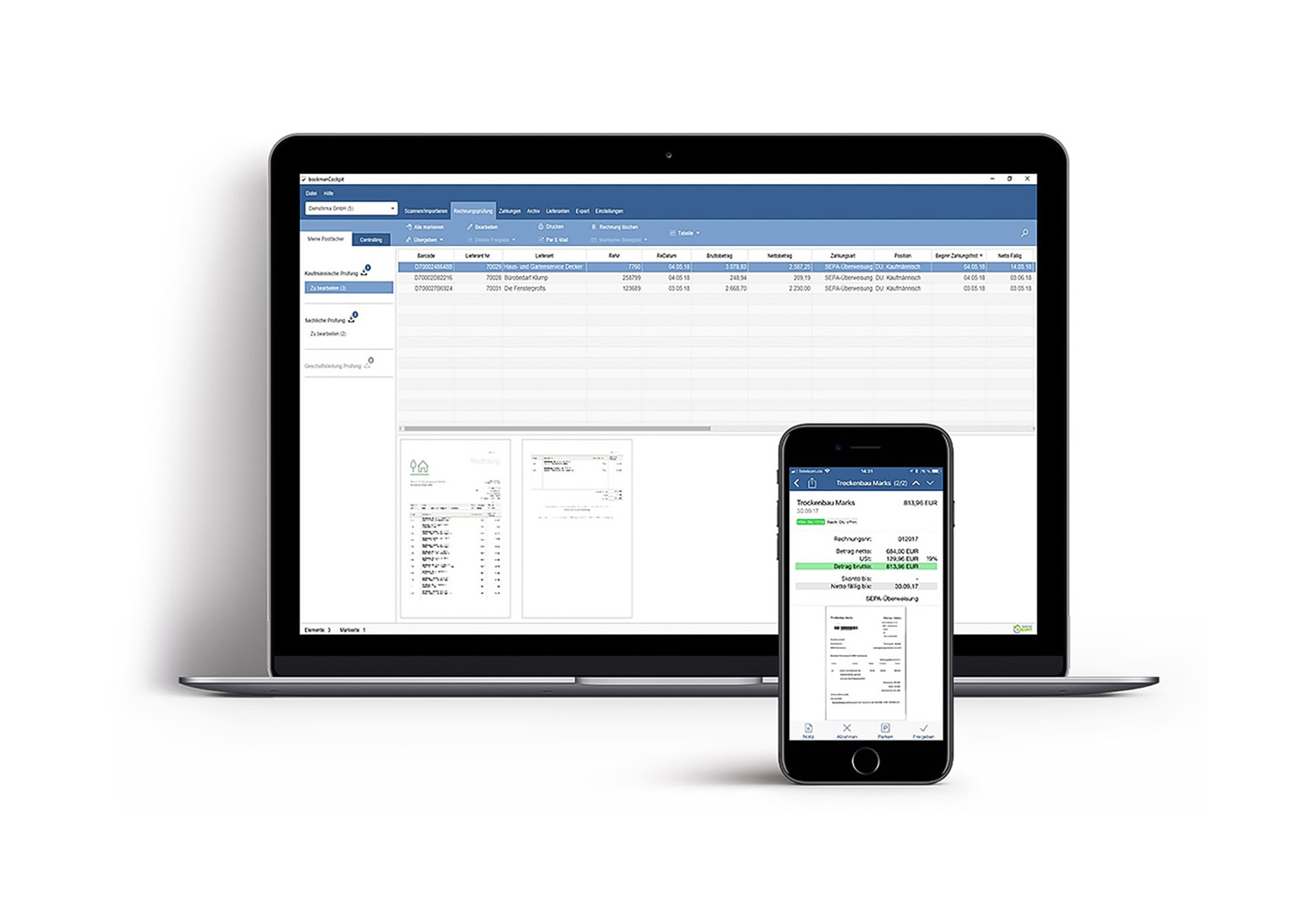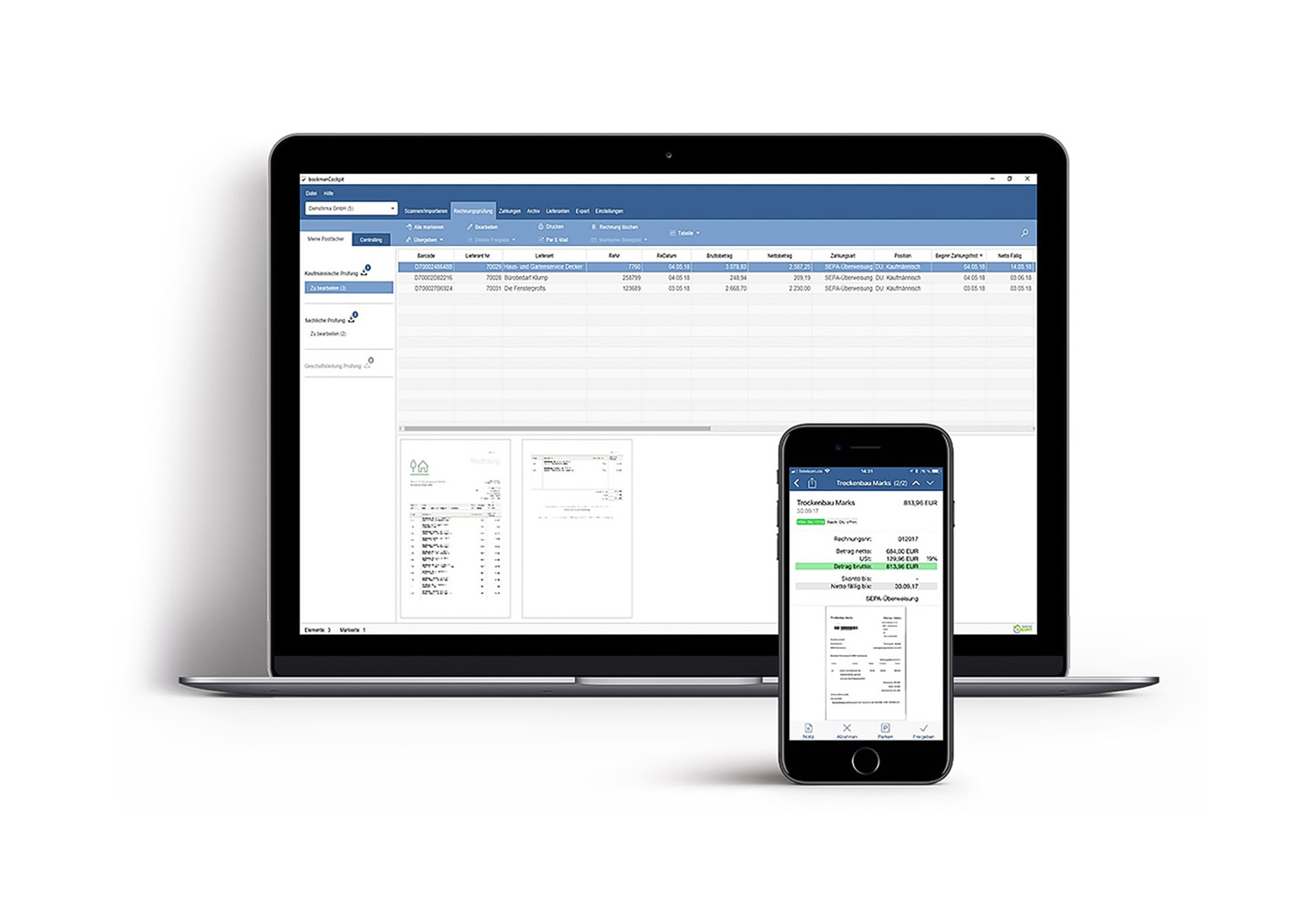 Invoice release for your clients and import into DATEV Unternehmen online (Duo)®
Example 2:
A client would also like to release invoices, enter cost centres and prepare payments himself. For this purpose, you can easily provide him with the bookmanCockpit®, either in the standard version or with your logo.
Any missing receipts can then be collected via a simply created Collecto and are automatically transferred to bookmanCockpit®. Of course, everything ultimately ends up in DATEV Unternehmen online (DUo)®.
This makes 5F FiBu and bookmanCockpit® the ideal pre-system for DUo®.
Clients are fully digitised in the previously inefficient, nerve-racking and time-consuming processes of accounting preparation, incoming invoice verification and approval as well as payment transactions. This process optimisation provides clients with a positive user experience and at the same time ensures a measurable increase in efficiency. For example, processing time can be reduced by up to two thirds compared to existing processes. This provides immediate relief for staff. For the users of the 5F Collaboration Platform, the connection of bookmanCockpit® opens up new business models by expanding their service offerings.
All application scenarios can be combined with each other and always end in Datev Unternehmen online (Duo)® for optimal digitalised and efficient financial accounting.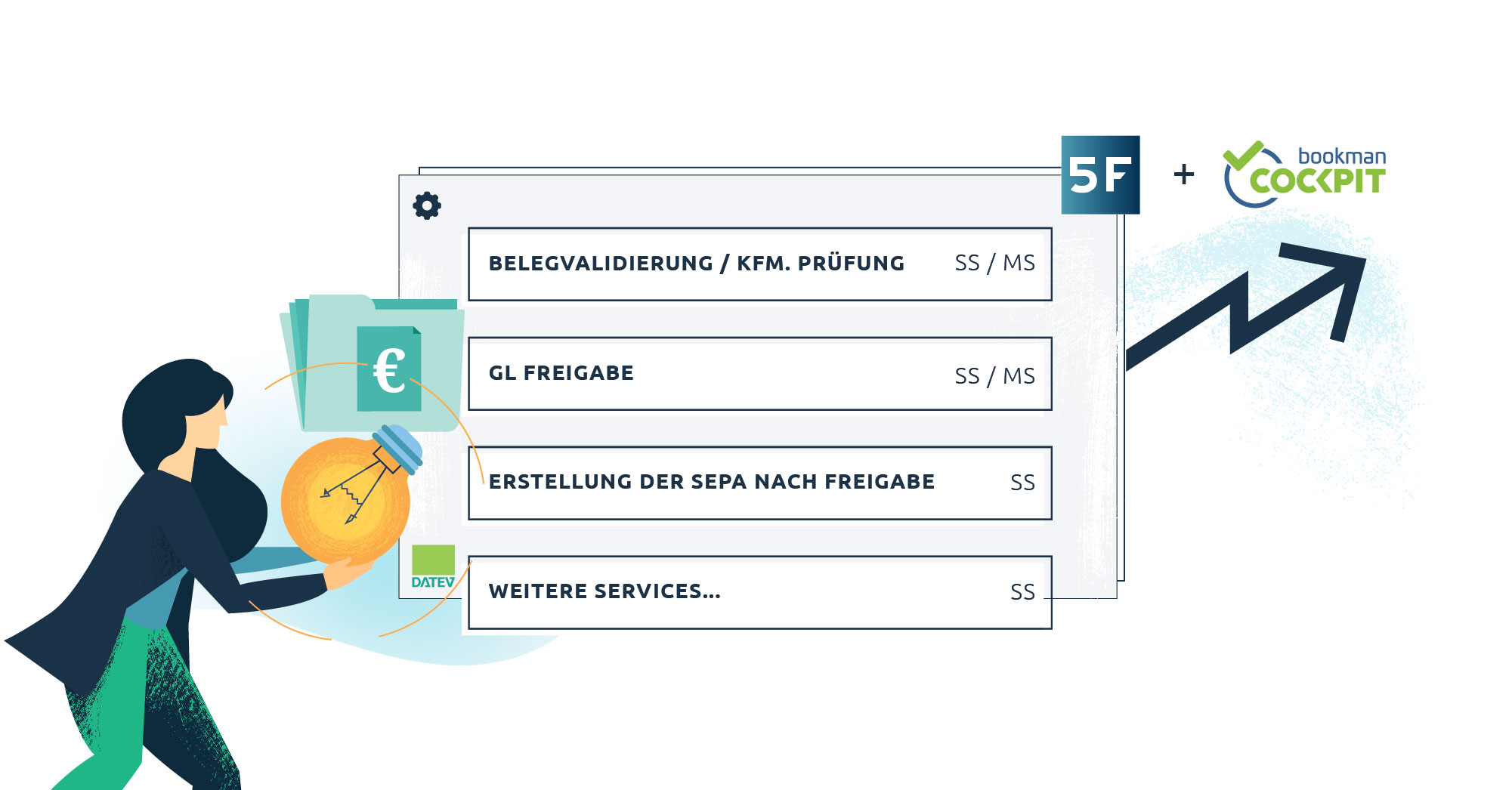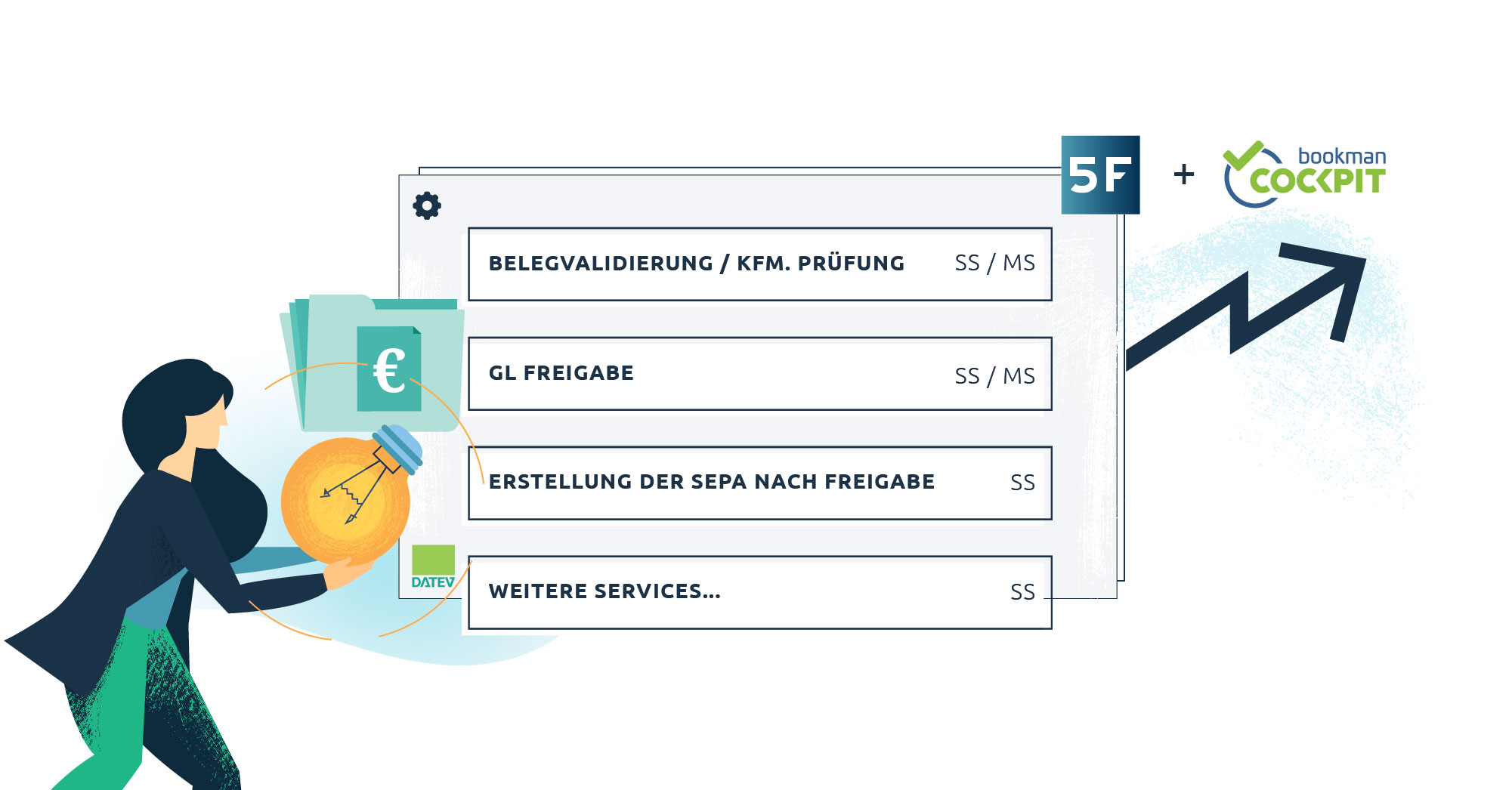 A benefit for clients as well
5F's client collaboration platform supports all phases of client processing. By combining 5F software and bookmanSolutions, your tax consultancy can achieve further measurable efficiency gains in existing business processes. This strengthens your position in the market, increases user-friendliness for your clients and thus promotes customer satisfaction. In the end, you will have more time for your core business: advising your clients.
Advantages for your tax consulting firm:
faster processing by reducing waiting times
higher quality of booking proposals
digitalisation of the advisory service directly from the first step of the process
documents are directly available digitally
use all the advantages of DUo without having to introduce this system at the client
Advantages for your clients:
Simplified processes for invoice approval and payment transactions
Cumbersome isolated applications are avoided
Exchange takes place on a central platform
Uncomplicated and secure login procedure, without further authentication procedures
Document transfer between clients and advisors even without logging in, thanks to "Sync Client"
improved ecological footprint and costs due to significantly less paper consumption
Tax consultancys take over payment transactions – clients can even approve via app
And that is just the beginning. As an additional service, you can now handle payment transactions for your clients directly: Because now there is an app – if you wish, even in your individual law firm design – with which your clients can conveniently approve open payments from anywhere.
Talk to us. We will be happy to help you.
Interested in 5F FiBu? Please contact us.
Talk to us. We will be happy to help you.
Interested in 5F FiBu? Please contact us.
5FSoftware connecting projects data people
"We think of ourselves as an intelligent digital link between you and your clients, across companies and borders. Simple, flexible, customizable, legally reliable."
Stephanie Bogendörfer, Co-Founder and CEO