Automate Datev-Finance: Better invoice management for tax consultants
5FSoftware now offers the additional modules bookmanCockpit and bookmanConnect for the uncomplicated migration of data to DATEV companies online (Duo). It facilitates the complete digitalisation of your financial accounting and is easily extendable. In addition to the pure document transfer, the commercial release can also be carried out on the 5F platform. As a special service, you can also offer to take over payment transactions for your clients.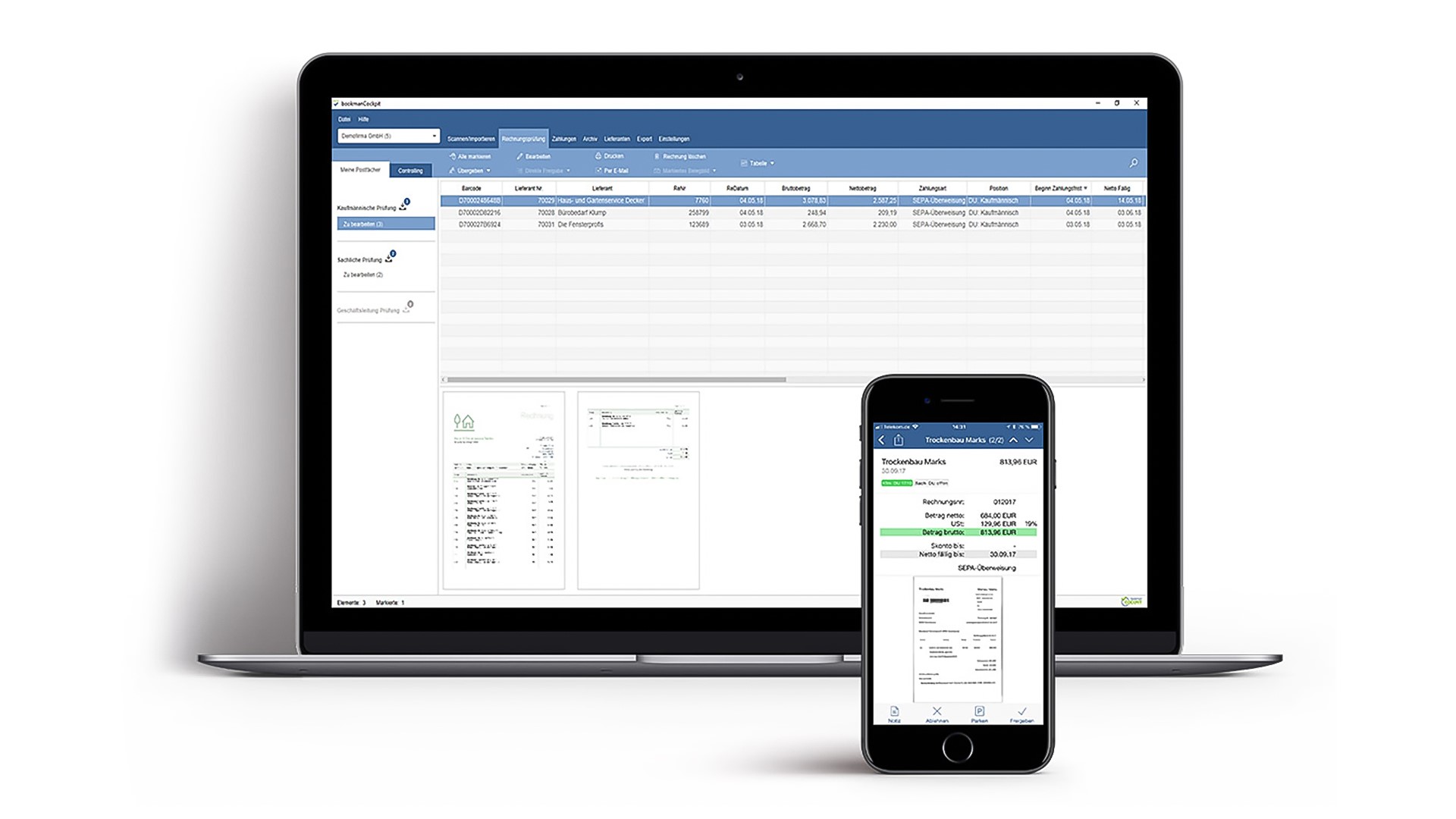 In this way, the financial accounting effort can be reduced to a minimum. For example, there is no need to type in invoice data and your client can simply "throw all the receipts over the fence" or enter all the necessary technical details for a proper booking record proposal, as desired.
Financial accounting automation: 260 bookings per hour per mandate
The cooperation between 5F and bookmanSolutions focuses on increasing efficiency and reducing costs in the financial accounting processes within your law firm. bookmanSolution is part of Diehm Treuhand Steuerberatung/Wirtschaftsprüfung and benefits in close cooperation with the traditional company from its more than 70 years of experience in (tax) consulting and auditing of small and medium-sized companies. Through 5F and bookmannSolutions, mandates of all sizes can be handled for the first time, because values of up to 260 bookings per hour per mandate can be achieved.
Positive user experience
This makes bookmanCockpit the ideal pre-system for DATEV companies online (DUo).Client files are completely digitalised in the previously inefficient, nerve-racking and time-consuming processes of accounting preparation, incoming invoice checking and approval as well as payment transactions. This process optimisation provides clients with a positive user experience and at the same time ensures a measurable increase in efficiency. The processing time can be reduced by up to 2/3 compared to existing processes. This provides immediate relief for your employees. The freed capacities can be invested elsewhere. 5F customers open up new business models by connecting bookmanCockpit through this expansion of our service offer.
Also suitable for small and medium-sized companies
bookmanCockpit is suitable for all clients regardless of the size of the company or the industry. Nowadays, small and medium-sized companies in particular still receive invoices mostly in paper form. Even electronic invoices are still frequently printed out and processed in paper form instead of digitally. The subsequent processing is therefore strongly paper-based and is still partly done manually. BookmanCockpit digitises, optimises the entire process and demonstrably increases efficiency in company administration.
Import of receipts into DATEV Unternehmen Online (DUo) and invoice approval
Within the framework of the cooperation between 5FSoftware and bookmanSolutions, bookmanConnect will be connected to the client collaboration platform of 5F in addition to the software bookmanCockpit.
This will bundle the operative invoice management with the central administration and organisation of the corresponding master data in the 5F collaboration platform. Law firms can thus use the advantages of importing documents into DUo and invoice approval directly from 5F. This is a further step towards a complete collaboration solution.
Also a benefit for your clients
5F's client collaboration platform supports all phases of the mandate processing. By combining 5FSoftware and bookmanSolutions, your law firm can achieve further measurable efficiency gains in existing business processes. This strengthens your position in the market, increases user-friendliness for your clients and thus promotes customer satisfaction. In the end, there is more time for the core business: advising your clients.
Advantages for your law firm
faster processing by reducing waiting times
higher quality of accounting proposals
Digitalisation of consulting services directly from the first process step
Receipts are directly available in digital form
use all the advantages of DUo without having to introduce this system at the client
Advantages for your clients
Simplified processes around invoice approval and payment transactions
Complicated isolated solutions are avoided
Exchange takes place on a central platform
uncomplicated and secure login procedure, without further authentication procedures
Document transfer between clients and consultants even without registration, thanks to "Sync Client"
improved environmental footprint and costs due to significantly reduced paper consumption
5FSoftware connecting projects data people
"Wir verstehen uns als intelligentes digitales Bindeglied zwischen Ihnen und Ihren Mandanten, über Unternehmens- und Ländergrenzen hinweg. Einfach, flexibel, anpassbar, rechtssicher."
Stephanie Bogendörfer, Co-Founder und CEO
5FSoftware connecting projects data people
"We think of ourselves as an intelligent digital link between you and your clients, across companies and borders. Simple, flexible, customizable, legally reliable."
Stephanie Bogendörfer, Co-Founder and CEO