In these stormy times, we are all seeing more and more how important it is to be able to work digitally with our clients.
That is precisely why we are proud to be bringing on Monday, 23.3. our new release out!
We want to help you to exchange documents even more easily – structured and comprehensible.
Today we present the new functionalities to you with great anticipation.
What will change?
You get a new and easy-to-understand dashboard to see the news on the platform even faster.
We are pleased to receive feedback from our first 1000 customers since the market in September 2019. We are the most innovative collaboration platform for auditors in Germany or as one customer said, the "unicorn among platforms for WPs".
We have now implemented the feedback from our customers in the new homepage.
Benefits of the new dashboard
All important projects, project rooms or collectos at a glance

Directly uploading and downloading documents from the dashboard

Insight into the activity log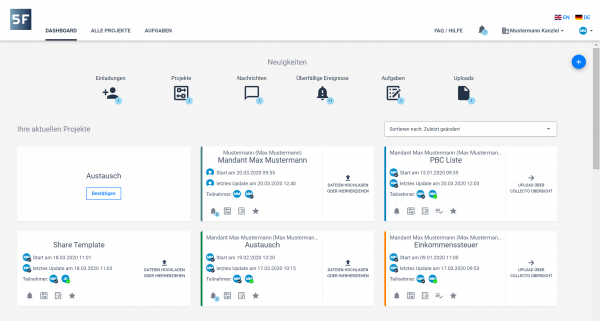 News
You can now find all new updates and events at a glance here.
Click on the icon to jump directly into the appropriate area or open more details.
You don't see an icon in the News section? Prima! They are up to date.
Your current projects
In this section you will find all new projects, project rooms, Collectos and Quickshare marked with a star. Here you can find the most important information, such as the date of the installation, when the last update took place or which participants were added.
Confirming new projects
Have you been added to a project? You will be informed in the news with an icon for projects and also in the area your current projects will be asked to confirm that you have taken note of it.
Download documents
Have you been provided with a new document in a project room? Use the dashboard's new feature to download new documents directly.
Click on the upload button and display the documents with the following icon.
Upload documents
To upload documents to project rooms even faster, simply use the new upload field. To do this, click the Upload Files field or drag the project space here, or drag the document directly to that field.
Start new workflows
You can now start a new project, project space or Even Collecto even faster.
To do this, click the + icon located at the top right of your dashboard to open the following selection: