We would like to introduce you to the new functions of the release. On the one hand, the possibility of mass export has been integrated into the project space and on the other hand, our new task management tool is available to you.
In this way, our secure data rooms become real project spaces.
This extension gives the 5F platform a new, very practical component that makes it easier for you to communicate with your tenants. Individually created tasks can be assigned and managed, allowing for faster completion of the task.
If you want to know what the new features look like in detail, here's a detailed description. Have fun reading!
Benefits

of the new task tool
Create and assign tasks individually

Fast and effective management

Clear presentation at a glance
A simple distribution of tasks is now easily possible. Even processes such as invoice releases can be displayed and easily tracked.
Thanks to the different and customizable task types, you can define the steps necessary to complete the task yourself.
Individual functions of task management at a glance
Accepting and completing tasks

Status overview of participants
You can easily create tasks and assign them to as many participants as you want. The tasks are directly connected to your project space and you have an overview of all tasks in each project room. For example, you can easily ask your company for documents that you need for further processing. To do this, you create a new task, assign it, and determine the due date, status, and priority as needed.
You can reference tasks to individual groups or items in your Collecto, or to individual documents from the project space. This allows each participant to quickly see what to release or check.
Accepting and completing tasks
You always have a full overview of the status of the processing and even per participant. Each participant must accept a task and can mark it as complete after completion.
Never lose track of complicated document or invoice release processes.

Defining and adjusting status
For a better overview, there are colour-coded stati. At first glance, it can be seen whether the task is still on the To Do list, is already in progress or has already been completed. These stats can be easily stored by you and thus create your own processes.
All sequences of tasks can be defined individually. Simply change the status of the tasks. From "to edit" to "to check" or "to signature". Just as it suits you. The definition of task types also ensures that your counterpart is clear about the content and status of the task. Clear communication, which is also secure, promotes efficiency and can also save time.
From now on even more overview in your project. With the Insights you have all the important data in view. Whether the number of workflows, the stati over all existing collectos or the display of the stati of all tasks. A uniform color marking also helps you not lose sight of anything even in a large project. The uniform colouring thus provides structure with an overview. See for yourself!
Mass export of documents in the project room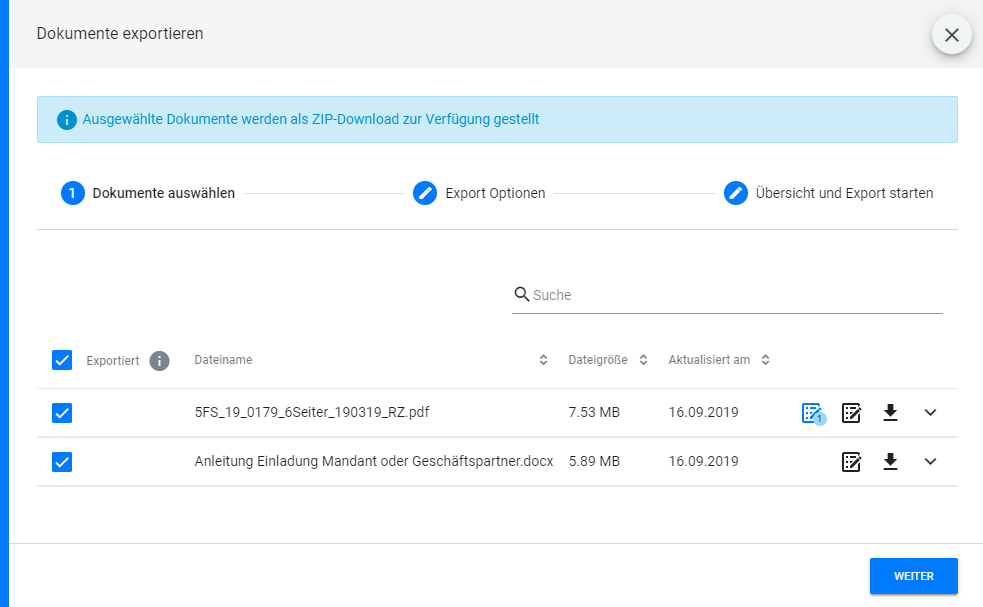 Another skill we have newly developed for you is the mass export of documents in the project room.
You can now export all documents of a project room to a ZIP folder with one click.
All documents that have already been exported are marked and we supply both an xml and an html file. This saves you time and you have all documents ready in one folder immediately.